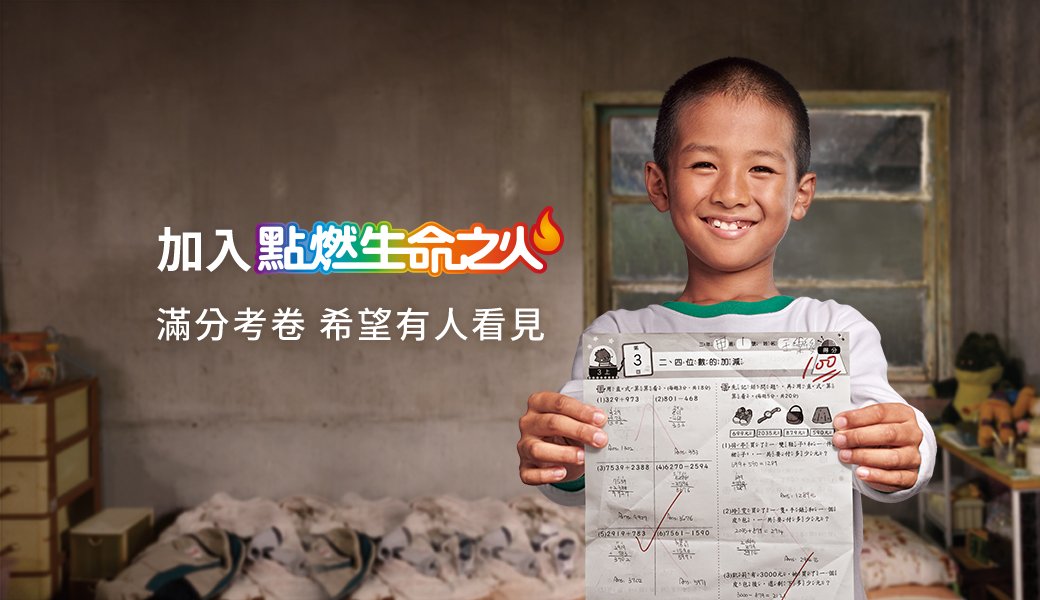 Online Learning and Living Conditions of Children in Rural Areas | Light up a Life
After the COVID-19 pandemic pushed all levels of school to shift classrooms to online platforms in May, parents started to show concerns over their children's online learning condition and the risk of getting Internet addiction. Some parents may also need to face reduced working hours or job losses. Still, these challenges would be magnified in the rural areas. CWLF conducted the "Online Learning and Living Conditions of Children in Rural Areas[i]" survey during the pandemic this year. It was found that in the rural areas, most families' income reduced during the pandemic. Moreover, children needed to face challenges of access to digital device or Internet or lack of family support. Compared with children living in the cities with affluent resources, the urban-rural digital divide was alarming.
CTBC Charity Foundation started the "Light up a Life" fundraising campaign 37 years ago, and it has sponsored CWLF's "Rural School Support Program" for many years. In this press conference, CWLF shared the results of "Online Learning and Living Conditions of Children in Rural Areas" survey and revealed the difficulties children living in rural areas faced during the pandemic.
COVID-19 pandemic forced over 20% parents at risk of reduced working hours or job losses. Children did not have adequate food.
Many parents in rural areas could not have a stable job in pre-pandemic era, so after the outbreak of the pandemic, they were suddenly forced into an even harsher situation.
According to CWLF's survey, 27.1% families' income reduced during pandemic while 20.4% parents faced reduced working hours or job losses. 18.5% parents worried about whether they could afford children's tuition or textbooks with the reduced family income.
Parents' financial stress also reflected on their care for children. The survey showed that
47.5% children in rural areas would miss meals or could not have adequate food. 34.1% children in rural areas encountered lack of household necessities. 35.5% did not have enough stationery. 40.4% did not have enough personal protective equipment (PPE) during pandemic.
Without adequate PPE, it was not surprising to see that
66.9% children worried about their families and themselves infected with COVID-19.
"Before the schools closed due to the pandemic, children in rural areas could have lunch at school regularly. Some schools also worked with local communities to provide breakfasts and dinners for children from disadvantaged families. In general, children were able to have nutritious hot meals every day. However, during those 4 months when schools were closed, children without parents at home during daytime would eat snacks or instant noodles as a meal; some might even skip meals. It was concerning whether having imbalanced diets for such a long time would affect these children's health. Therefore, sponsored by the Light up a Life, we added two extra boxes of nutritious food to our original supplies for the families, with the hope that children will not worry about lack of food anymore.," said CWLF CEO Li-Fang Pai.
Without the device, environment and parental support, the urban-rural gap in online learning was widened.
According to Human Rights Watch (2021),[ii] children's learning outcome would be affected by lack of proper learning device and environment (unstable Internet connection, lack of digital device, lack of quiet space at home, etc.). Children in the rural areas were facing such problems. Results of CWLF survey showed that
when learning from home, only 33.3% children in rural areas had personal computers or tablets. 60% borrowed digital devices from schools or shared with other family members.
An alarming result was that one fifth of children did not have any computers or tablets at home at all and could only use cellphone to take the online class. Regarding the Internet connection, only
52.2% families had access to Internet at home, 24.5% children had to use their families' 4G hotspot to connect to the Internet. 6.9% children had to go to the community centers or schools to have access to the Internet.
Due to regional restriction in the rural areas, even if these children have access to the Internet, the connection would be unstable. Children often expressed that their Internet speed was slow (46.6%) and would even stop working (43.9%). Moreover, children in rural areas also lack of proper learning environment at home. According to the survey,
60.7% children did not have a quiet and undisturbed room at home; 46.6% did not have sufficient light in the room; 38.1% did not have their own desk.
"In addition to device, what these children in rural areas lack the most has always been accompaniment," said Li-Fang.
"When learning from home, 21.5% children in rural areas indicated that they were often alone or only with siblings at home.
Even if parents were at home, they could not assist children in their online learning. The results of survey showed that
only 42% parents could accompany and help their children finish their homework. 47.6% parents could help children solve the problems of online learning. In such difficult learning environment, no wonder there were 24.7% children worrying about falling behind their peers when learning from home.
It was unfortunate that online learning seemed to have widened the urban-rural gap," Li-Fang added.
Parents did not have time to accompany and support their children. Internet addiction and online safety became critical challenges faced by children in rural areas.
As the level 3 epidemic alert was maintained until the end of summer vacation, children around Taiwan could not participate in outdoor activities like they used to. According to CWLF's survey in 2018, almost half of the children in rural areas (46.9%) used to attend summer camps during summer vacation. It was not until the COVID-19 situation improved in mid-August, 2021 that some of these summer camps and clubs re-opened.
Only 19.6% children were able to attend summer camps this year. Without summer camps, what had children done during summer vacation? The survey found that 48.5% children were on digital devices at home all the time. 29.2% were always at home watching TV. 38.4% children said that they were bored and had nothing to do.
Results of further questions about parent-child interaction during the pandemic showed that
72.7% children said there was less than once a week for them to read storybooks with their families; 52% did not do any exercises; 31.2% said there was less than once a week to chat and share what happened during a day with their families.
During level three epidemic alert period, families had more time to stay together at home. However, for children in rural areas, parents seemed to be their most familiar strangers.
When the parents were not present and opportunities to do outdoor activities were banned, children turned their focus to the virtual world, which led to concerns over online safety and Internet addiction. CWLF discovered that
85.2% children in rural areas would play online games every day; some (23.4%) even spent more than two hours each day on online games. Some results required more attention. For instance, 29.8% children would chat with netizens every day, and 8.2% would chat over one hour each day.
The increasing screen time may not only affect children's health, but expose children in many risks hidden in the online world, such as personal data leak, online sexual exploitation, cyberbullying, Internet addiction, or exposure to information inappropriate for the age, etc. For these children who may not have adults' company and monitor, their online safety required more attention.
Passing love to rural areas. Continued attention to urban-rural gap in online learning in the post-pandemic era.
CWLF has a longstanding program supporting children and families in rural areas. In addition to social workers' support to these families, CWLF also provided education subsidies and household supplies. The survey showed that the COVID-19 pandemic has created tremendous challenges for children in rural areas in their education and daily life. "Even after the pandemic, we cannot go back. Online learning is the trend. Therefore, how we can close the urban-rural gap in online learning is imperative right now. CWLF will continue paying attention on this issue and call for government's action to supply digital devices to rural areas. We have longstanding work in promoting online safety education with the hope that children would not get lost in the online world. Moreover, we will continue sponsoring student clubs and camps of rural schools and hope that children can gain experiences in various activities, form various hobbies and interests, so that they can broaden their worldview," said Li-Fang. She went on to explained the objective of the Rural School Support Program. "Moreover, we must thank the support from CTBC Charity Foundation's Light up a Life campaign which granted us more resources to continue our work with the disadvantaged families in rural areas. Through financial support and provision of household supplies, we can help them overcome the difficulties during pandemic."
During the press conference, CWLF also invited the principal Mr. Dong-Han Chen and three sixth graders of Tiansheng Elementary School in Changhua County to describe the problems and needs they had of online learning in rural areas so that the public can understand the front-line situation. Mr. Chen mentioned that Tiansheng Elementary School locates in countryside. Although students could borrow digital devices from school, children and parents had not developed skills for using these tools. Families with two or more children doing online learning at the same time might experience more difficulties. When the schools were closed, one of the parents might also need to stay at home to care for the child, which increased the family financial burden. We appreciate Light up a Life program for sponsoring our afterschool care and student club activities, which helped alleviate parents' stress.
During the interview with three sixth graders from Tiansheng Elementary School, Li-Fang asked them to share how they learned from home during pandemic. Jarod (nickname) said that his parents' cell phones and laptop were shared among the three children in the family to take online classes. If they all use the Internet at home at the same time, the Internet connection would become unstable. This situation has bothered them for a long time. Wayne (nickname) said there were two children in the family sharing his parents' cell phones. The Internet was slow and the screen would often freeze, and that would generate mistakes in his responses in class.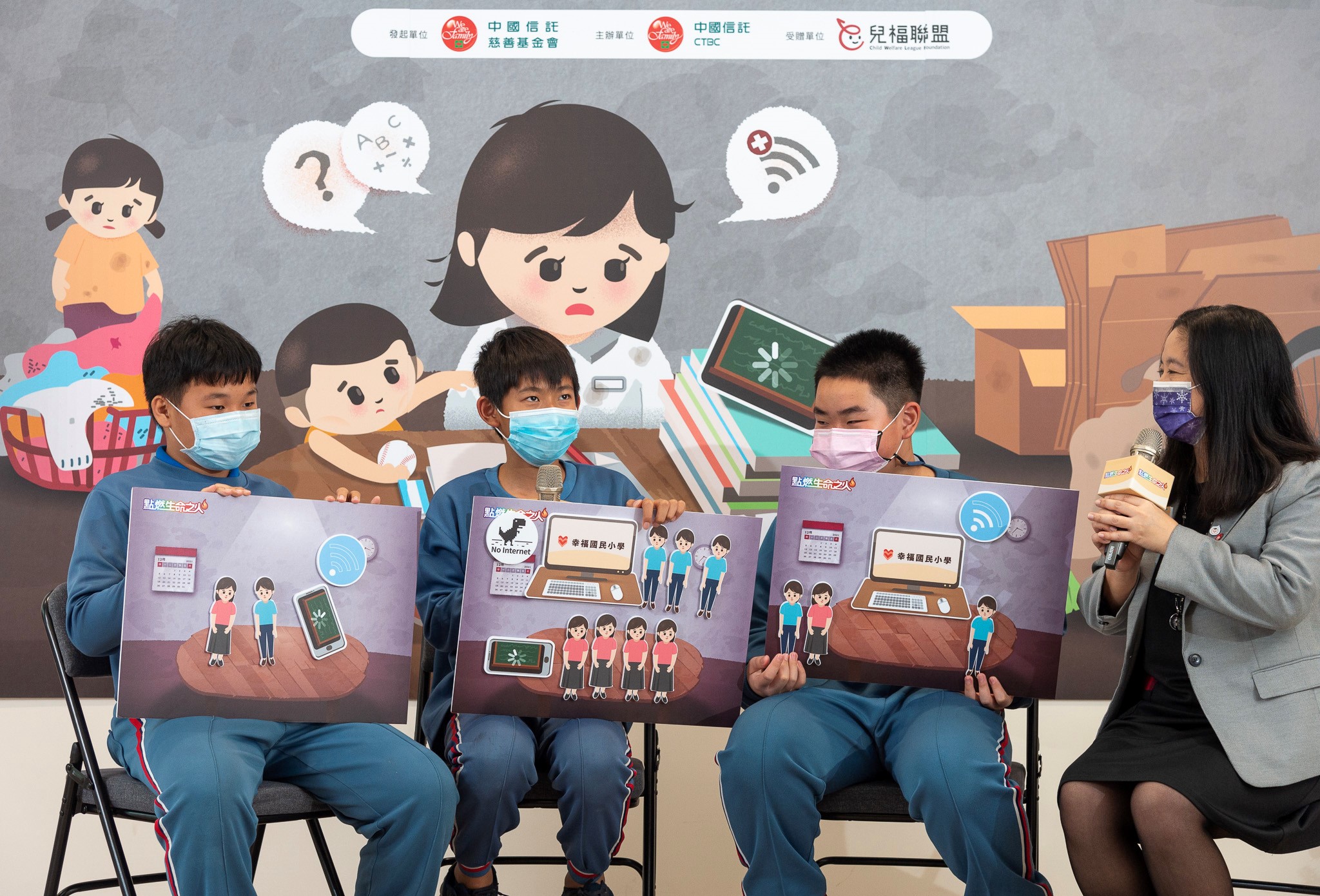 Li-Fang asked a follow-up question about how they continued the class when the Internet connection was unstable. Beaton (nickname) chuckled and said there was one time when the teacher had a problem with the Internet during class. When the teacher talked, the voice would be suddenly replaced by a "bah-bah-bah" sound. It repeated three times and the entire class just roared with laughter. The teacher had to log out and log in the online platform again to solve the problem. Jarod felt that learning from home prevented him from getting more detailed explanations in class, and he often felt that he could not understand the lesson. Moreover, in the beginning it troubled him that he did not know how to use the cell phone to submit his homework. If he had a question, he had to ask his classmates or his sister after class.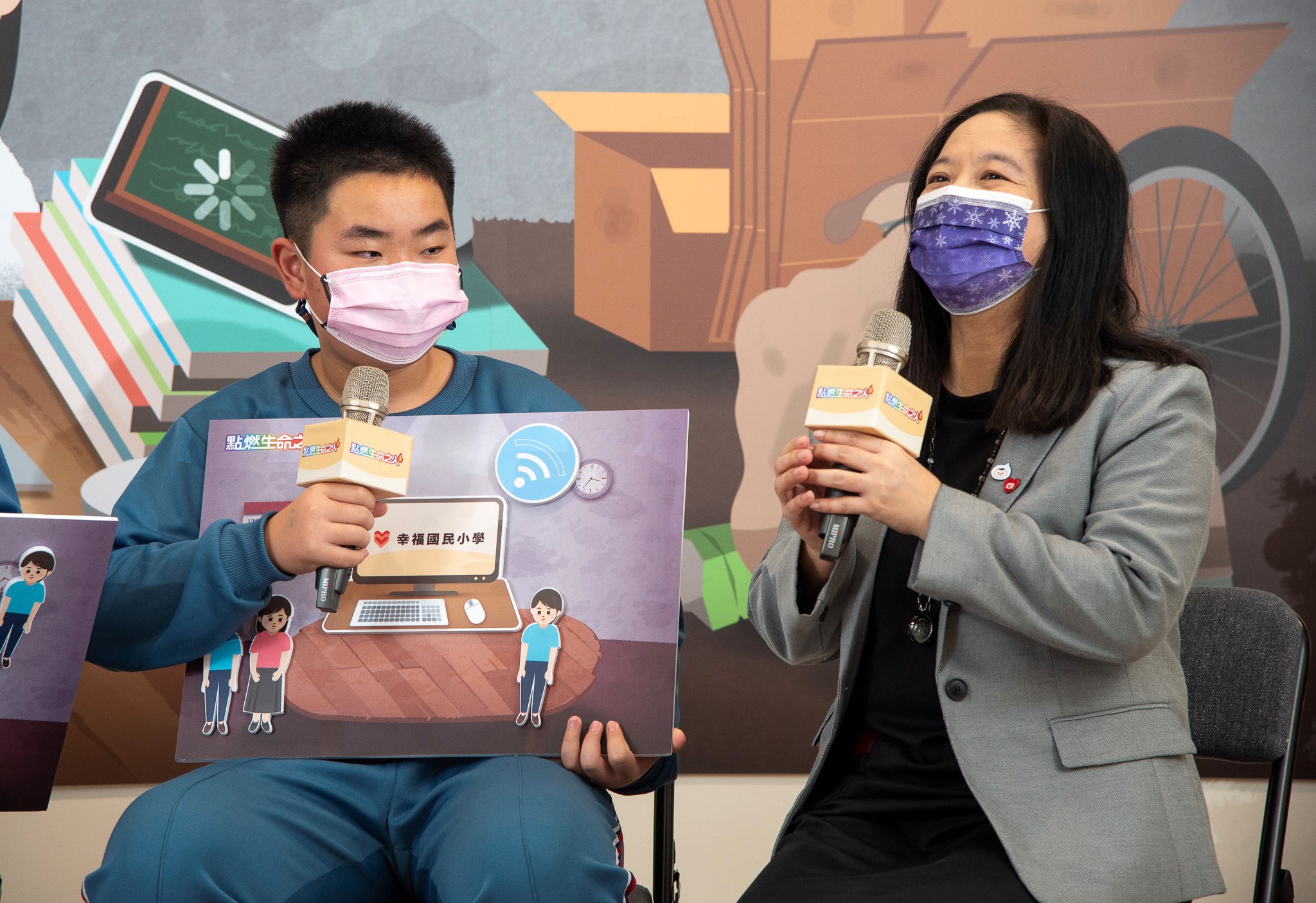 When being asked which one they liked more, learning from home or learning at school, all three children said they prefer going to school. Wayne explained that he could hang out with his classmates if he went to school. Also, if he had questions, he could ask teachers immediately. Moreover, at school he would not play mobile games, but if he was at home, he could not help but do it. Li-Fang finished the interview by saying, "Schools are important to children not just for children's education, but also for their interpersonal interaction and lunch. How to let children enjoy their school life is not just children's wishes. It is also a hope shared by adults."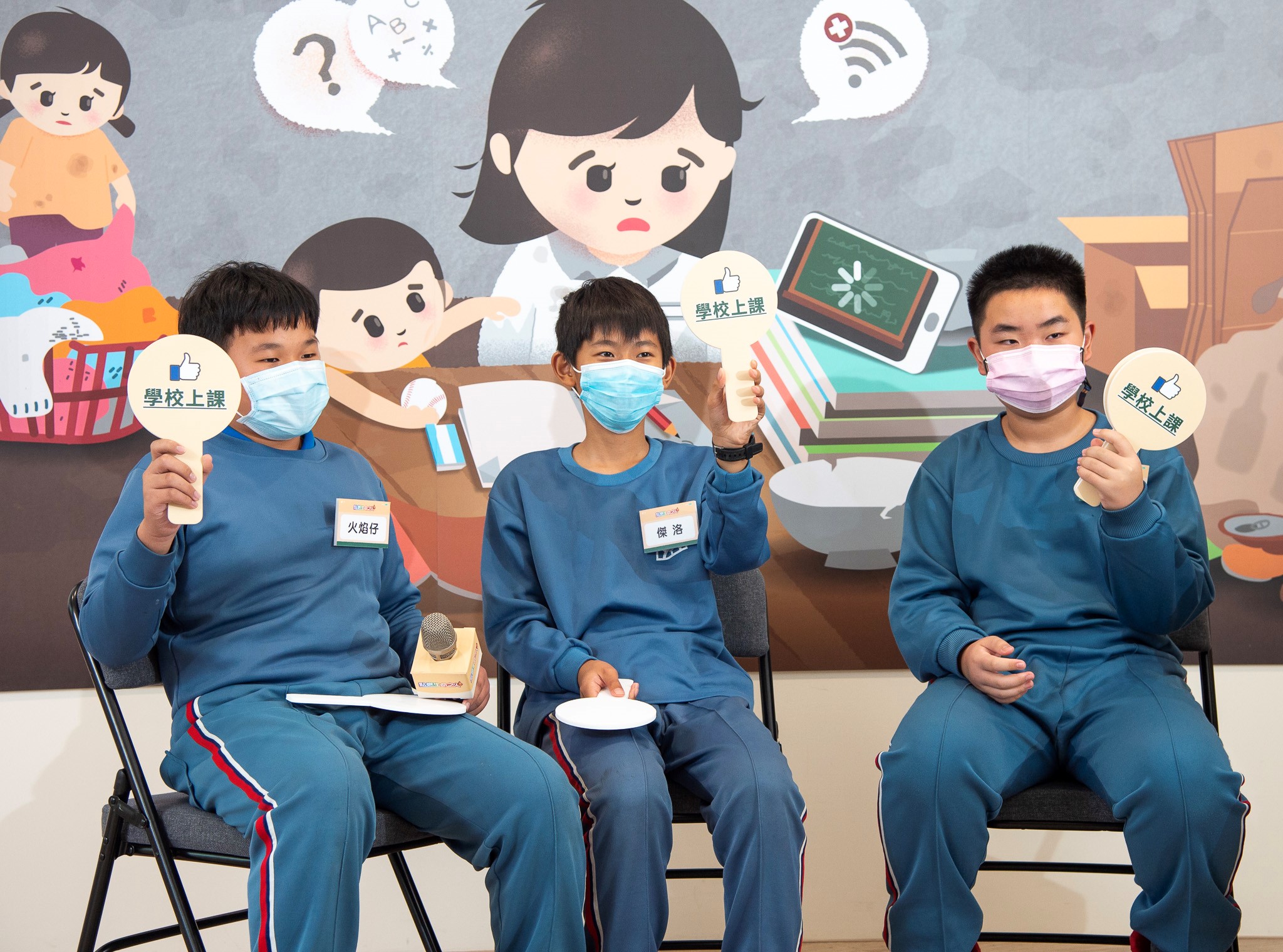 CTBC Charity Foundation invites you to continue lighting up a life and be the Santa for children in rural areas.
CTBC Charity Foundation Vice President Guo-Shi Chen indicated that Light up a Life campaign has collaborated with CWLF for twelve years. Besides our longstanding support for CWLF's "Rural School Support Program," CTBC Charity Foundation also had "Taiwan Dream Project" and "CTBC Youth Baseball Project." Together with the power of school and community, we send love and resources to children in rural areas. Taiwan has been in the shadow of COVID-19 pandemic over the past year. Families who already had difficulties before the pandemic had to face an even harsher challenge. Children in rural areas require more public attention right now. It is our sincere hope that every one can continue light up the fire of love, and donate to help children turn around their adversity with positivity. This way children can learn to pay it forward and let love spread.
CWLF Rural School Pay Love Forward Campaign
Donate via:
http://i.children.org.tw
Dial: +886-2-2799-0333 ext. 1
37th Light up a Life Fundraising Campaign
Website:
http://www.ctbcfoundation.org
Dial: +886-0800-001-100
[i] CWLF conducted a survey from 15 September to 8 October, 2021 on 5th and 6th graders in our rural school support program and CTBC's Taiwan Dream Project. 381 schools and 26 bases in Taiwan Dream Project were contacted. 1,154 questionnaires were sent, and 1,035 responses were received. Return rate were 89.7%.
[ii] Human Rights Watch (2021). Years don't wait for them: Increased inequalities in children's right to education due to the Covid-19 pandemic. America, DC: Author.