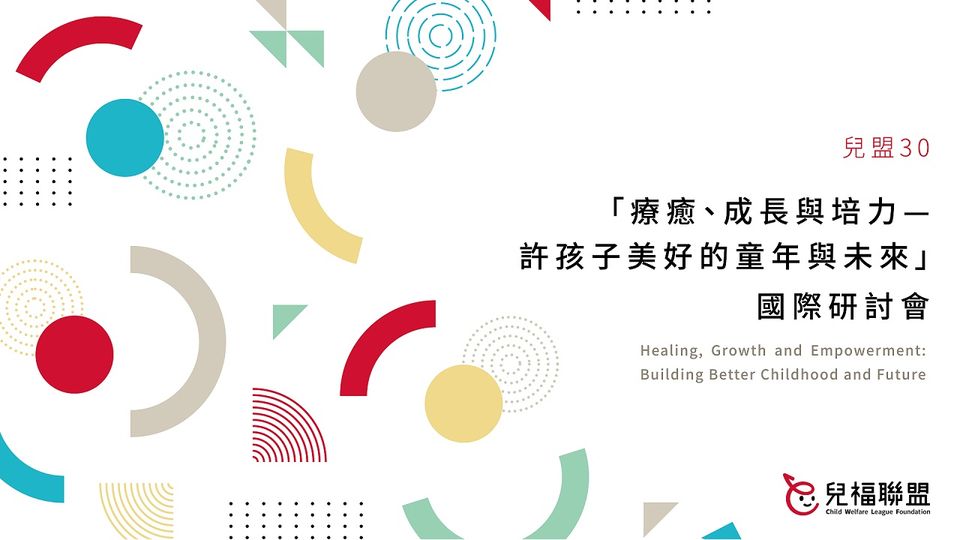 Healing, Growth and Empowerment: Building Better Childhood and Future
With "Trauma-Informed Care" and "Infant and Toddler Parenting Support" as the themes, CWLF celebrates our 30th anniversary with an international conference which will take place on September 27-28, 2021. We will be livestreaming the event on our Youtube channel and Facebook page.
Studies show that adverse childhood experiences (ACE) would affect mental and physical health as well as brain development. For children with trauma, if caregivers, teachers, and professionals can provide trauma-informed care and create a friendly and nurturing environment, their journey of healing can be greatly benefited. By trauma-informed care, it means realization about trauma and how it can affect people, recognizing the signs of trauma, and responding appropriately to resist re-traumatization.
CWLF is honored to invite Dr. Bruce D. Perry to be one of the keynote speakers in our 30th anniversary international conference. Dr. Perry is the Principal of the Neurosequential Network, Senior Fellow of The ChildTrauma Academy and a Professor (Adjunct) in the Departments of Psychiatry and Behavioral Sciences at the Feinberg School of Medicine at Northwestern University in Chicago and the School of Allied Health, College of Science, Health and Engineering, La Trobe University, Australia. Dr. Perry has published over 500 journal articles, book chapters and scientific proceedings and is the recipient of numerous professional awards and honors. His experience as a clinician and a researcher with traumatized children has led many community and governmental agencies to consult Dr. Perry following high-profile incidents involving traumatized children and youth. His clinical research and practice center on the long-term effect of trauma on children, adolescents and adults, with special focus on children's mental health and neuroscience, in hopes of raising awareness on how trauma can change children's brains and affect their development. He is the author the bestselling book,
The Boy Who Was Raised as a Dog
. His latest book is titled
What Happened to You? Conversations on Trauma, Resilience, and Healing,
co-authored with Oprah Winfrey.
On the other hand, studies also show that if parents can provide infants and toddlers quality care, mental support, and give positive responses, they can help children achieve better development and capacities to adapt to various stiuations as they grow up.
We also have the honored to invite Professor Julie M. Ribaudo, a Clinical Professor of Social Work at the University of Michigan, to be our keynote speaker on day two. Professor Ribaudo has been devoting to parent-child relational health and infant mental health. She was the 2013 recipient of the Selma Fraiberg Award for outstanding contributions to Michigan infants and their families, awarded by the Michigan Association for Infant Mental Health.
In 2020, we officially launched our Attachment Biobehavioral-Catchup (ABC) parenting program. In late 2021 we will open our Center for Child Trauma and Resilience. With these new services, we hope to provide more support for families in need.
We celebrate our 30th anniversary this year. Over the past three decades, we have witnessed Taiwan's progress in advancing children's welfare. In the next 30 years, we hope to continue creating safe and nurturing environment for children and families.