2021 Taiwan ACEs Study and Trauma-Informed Care Resource Center
The body remembers the trauma you had in childhood.
It was always sad to see child abuse incidents on news. Besides the wounds on children's bodies, these adverse childhood experiences would cause long term harm on these children's physical and mental health, even after they turned into adults. Since Center for Disease Control and Prevention of the United States published the Adverse Childhood Experiences (ACEs) study, the impact trauma creates on physical and mental health has drawn public attention. The ACEs study collected information from over 17,000 adults between 1995 and 1997. Respondents were asked ten questions relating their childhood experiences such as whether they were physically or sexually abused. One adverse experience counted 1 point. Each person's final scores would be cross analyzed with their medical records. The results showed that respondents with higher ACEs scores had higher chances of getting heart diseases, liver diseases, cancer and depression. They were also more likely to experience issues such as obesity, substance abuse, social and emotional disorders, suicidal tendency, etc. Given to the possibility of cultural differences, we wondered what the results might be if the study was conducted in Taiwan. Therefore, CWLF also conducted an adverse childhood experiences survey on high schoolers in Taiwan. Through this survey, we hoped to understand the prevalence and effects of ACEs in Taiwan, seek ways to respond to trauma and prevent re-traumatization.
One in every three 12th graders had traumatic experiences
In CWLF's survey on 12th graders in Taiwan[i], 32.4% respondents had adverse childhood experiences, where 14.3% of them scored one point, 7.2% two, 5.0% three, and 5.9% four or more. The US study indicated that adults' physical or mental health would be affected if they had four or more ACEs. Still, CWLF's survey on 17-year-olds in Taiwan showed that if there was at least one ACEs, these children's physical and mental wellbeing would be affected.
High schoolers who had four or more ACEs, more than 30% of them had suicidal thoughts.
Like the US study, CWLF compared the differences between the group of respondents who had less than four ACEs and the respondents with four or more ACEs.
Among high schoolers who scored four or more points in the survey, 30% of them experienced "severe" mood disorders[ii]. 54.8% felt depressed; 54% felt they were not as good as others; 48.4% would get nervous or unease easily; 39.7% would get mad easily; 38.1% had sleep problems. These numbers were much higher than the group of respondents with less than four ACEs. One concerning result was that 31.7% of respondents with four or more ACEs had suicidal thoughts, which was almost equivalent to one in every three respondents in the group.
The percentage was three times more than the those who scored less than four points in the survey.
It was evident that adverse experiences gave children tremendous psychological impact that may threaten their life if intervention came late.
In addition to the influence on emotions, ACEs also affect children's physical development. Respondents scoring four or more points had significantly higher chances of being diagnosed with Attention Deficit Hyperactivity Disorder and Developmental Delay than others. Moreover, although there were only few samples of respondents who had learning difficulties or dropped out of school, there were significant differences between respondents scoring zero and respondents scoring one or more points.
Who could support these traumatized children? 12th graders who had traumatic experiences mostly sought help from peers. Almost 20% did not want to seek help at all.
For respondents who had one or more ACEs, 75% of them would seek help from their friends in real life when encountering problems. Only 31.1% would seek help from their parents, 24.5% from their siblings. It was assumed that most of the ACEs these children had stemmed from their family, so their willingness to seek help from parents (31.1%) were significantly lower than those without any ACEs (45.7%). Another alarming result of the survey was that 17.3% children with ACEs did not want to seek help at all.
Either mood disorders, physical problems or suicidal thoughts, it was evident that children with ACEs were desperately in need of timely intervention from professional counselling. However, the current school system did not seem to support these children at-risk in time.
According to our survey, only 16.7% respondents would use the counselling resources at school. The percentage was even lower than seeking help from netizens (17.8%). Also, only 3.8% would seek professional therapy.
The reason for traumatized children not willing to seek help from counselling may be related to its accessibility. For instance, child representatives in CWLF program had expressed their wishes for the school counselling system to be more comprehensive and approachable to students. Representatives also advised schools to improve the confidentiality of using counselling resources, because students would get asked a lot by classmates if they went to the counselling center. In this survey, we also found that
only 27.0% respondents felt the school counselling resources were very accessible.
Even if traumatized children voluntarily seek help, will they really receive the support they need?
Unfortunately,

over half (53.6%) of the respondents did not feel the experiences of seeking help were good. 41.2% felt the experiences only helped a little. 12.4% felt the experiences did not really help them

. If the people children seek help from do not know "trauma-informed care," they may not be able to understand the pain children experiences and they may cause another harm in their responses to these children.

CWLF established Trauma-Informed Care Resource center to embrace traumatized children with the power of healing.
The idea Trauma-Informed Care was proposed by two American clinical psychologists, Maxine Harris and Roger Fallot. It is a mindset of being curious about things happened to a person and using this way to understand their trauma. We ask "What happened to you?" instead of "What is wrong with you?" It is emphasized that trauma recovery is not the responsibility of a person but everyone's business. Every system and service should hold a positive and cooperative attitude to understand the role trauma plays in daily life and the impact it creates, and that is how every child with trauma should be supported.
Studies showed that because children with ACEs have higher risk of encountering physical and mental problems, they tend to be referred to different health or justice systems. For instance, children may be involved in the justice system when their parent divorced. They may be involved in early intervention system when they had developmental delay. They may also be involved in child psychiatry or counselling system. However, whether these systems can use trauma-informed approach to understand these children and respond accordingly was crucial.
The objective for CWLF to establish Trauma-Informed Care Resource Center was to incorporate various resources in these systems and implement trauma-informed care in Taiwan, so that each system can provide timely support for children with trauma, giving them a chance to heal.
Did not believe in love. Did not believe herself worthy of love. Ding Ning's long way to heal.
CWLF invited Ding Ning to share her childhood trauma experiences in our press conference. She said, "When I was little, my grandpa's violent behaviors after he got drunk had affected how I grew up and how I faced the world. I didn't believe in love and didn't believe myself worthy of love. I even hoped I didn't exist in this world. Then through exercise, yoga, psychotherapy and many healing and growth courses for a long time, I slowly healed my wounds and relationships with my family. I slowly walked out from the influence and slowly developed from fragmented selves into wholeness. Therefore, I could deeply relate to these children who haven't gotten out from their trauma and pain yet. I also recognize the importance of constructing a trauma-informed resources network. When people from different backgrounds and different corners of the world can understand the trauma these children had been through, and change the way they respond to these children, they can help these children grow up without the scars. "
As a mother of three children, Ding Ning emotionally said that it is necessary to let parents and teachers understand trauma-informed care. Parents and teachers' words and behaviors would deeply affect children's future. Children are our future, but children must live well to truly become our future. Otherwise, they may become the people to harm others. As a person who had childhood trauma experience, she did not know that these childhood traumas had become her shadow that followed her everywhere. She would feel tense easily and often get sad with no reason. Her interpersonal relationship was also affected as she had low confidence and was not able to truly express herself. Ding Ning pointed out that everyone may have trauma experiences as they grow up, but a lot of times we did not know that was trauma and let it affect our decisions in our life. Without recognizing trauma, the road ahead would be bumpy and we may not be able to have healthy intimate relationship. Later she realized that she did not know how to love herself at all, so how could she ask other people to love her? After nonstop psychotherapy for 15 years, she discovered and faced her childhood trauma and found ways to heal. She learned that everything happened in the past was not her fault. Only when she realized that did her courage start to show and give her the strength to transform her past experiences into her power to grow.
CWLF CEO Li-Fang Pai used the following words to describe the context of developing trauma-informed services. "It was a process of searching for answers. We have been doing social services for over 30 years, and worked with many children and families who experienced domestic violence, child neglect, abandonment or other family emergency. We tried to help them solve the problems they were facing, but if we look ahead, could we take one step further to end or even prevent these problems from happening?"
Today we also invited Dr. Frank Leigh Lu from Child Protection Center, National Taiwan University Children's Hospital, Dr. Shu-Chiung Liu from Department of Social Work, National Taiwan University, and Dr. Chih-Tsai Chen from Department of Child and Adolescent Psychiatry, Taoyuan Psychiatry Center, to promote the importance of trauma-informed care. Dr. Lu shared that it was hard to see children get hurt, abused, fractured or even fall into coma in the medical environment. There was a child whose body was 70% burned when being hospitalized. Though the body recovered progressively, the child's psychological trauma was still severe. When the child was hurt, the child's mother did not provide care timely, which led the child not being able to forgive the mother for five years. Trauma can hide for a long time and affect the development. It is wonderful that CWLF established a Resource Center for the public to see and understand what trauma can do to a person and know that children need a safe and trustable space as well as professionals to accompany them. Professionals in the medical world also need to understand trauma and know that trauma and recovery is a lifelong journey. Let the medical world engage, help and promote trauma-informed care so that children can grow up healthily and happily.
Dr. Liu pointed out that everyone would experience various harms in their lifetime. Wound on the body would heal with time. Wound in heart, on the other hand, would not pass, and we don't know when it will come out. In our life, we would encounter somebody whose behaviors were reprimandable. The things they did may not be forgivable, but if we looked at these people with trauma lens, maybe they also had trauma. Trauma may not lead to a person's growth. It is necessary to involve professionals to assist. Professionals need to realize, recognize, respond to trauma and prevent re-traumatization. It is highly anticipated to see what CWLF's investment in the Resource Center can do in the future. It is hoped that the Resource Center can become an ammunition depot for professionals, so that we can have equipment to help traumatized people. When there were less people with trauma, there will be less people hurt by people with trauma.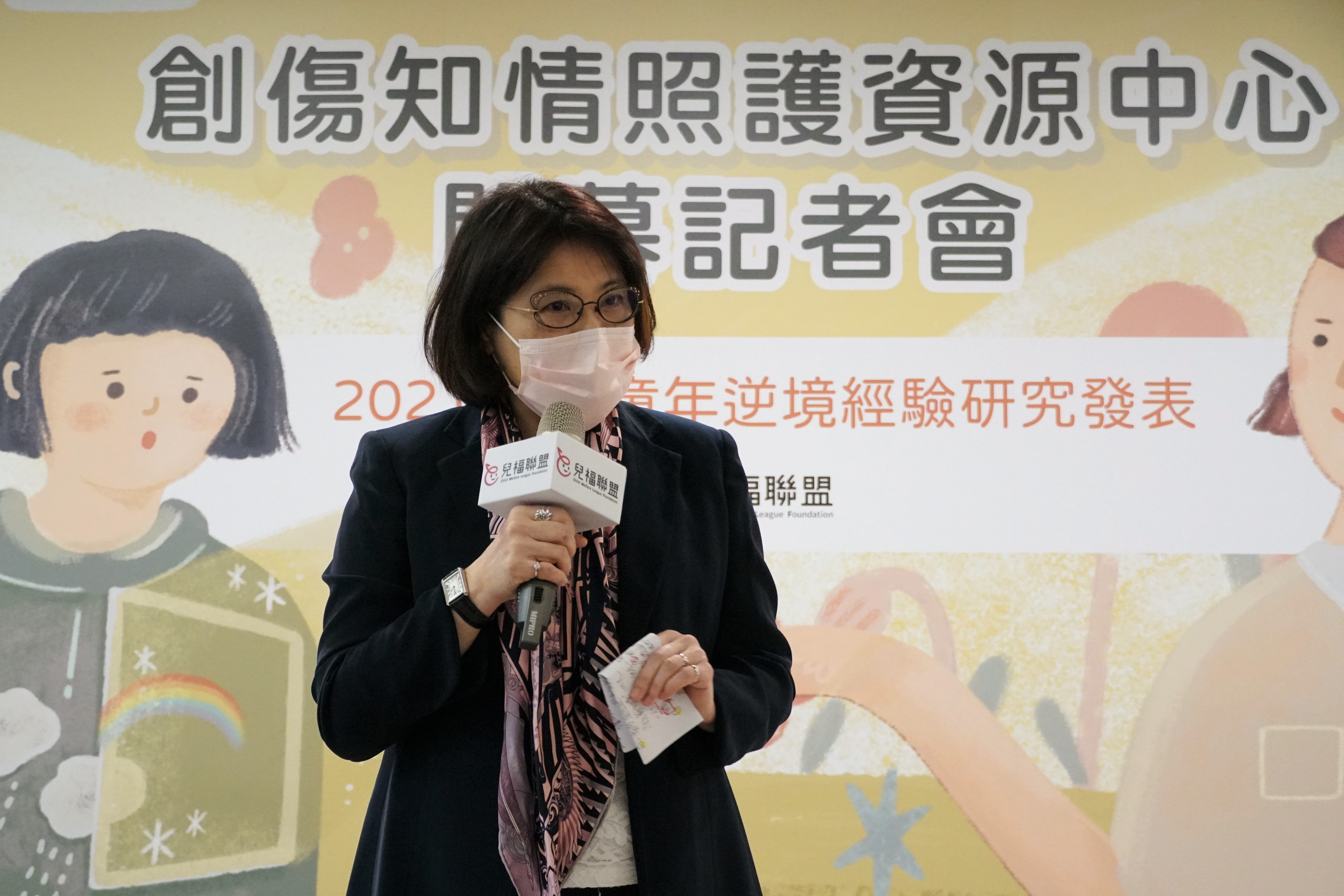 Dr. Chen also said she was happy to see CWLF establish Trauma-Informed Care Resource Center. It is a great reminder for pediatrics and care system in hospitals. Children's right to be heard has gotten more and more attention in psychiatrics. We let children have more choices and involvement in the medical cooperation. For instance, children diagnosed with Attention Deficit Hyperactivity Disorder can express their preference for medication. They can monitor their own health, and it can really benefit the children and their families.
At the end of the press conference, CWLF Chief Operation Officer Fran Gau pointed out that the goal for Trauma-Informed Care Resource Center is to become the firm support for the society. Through sharing resources, people would not feel lonely on the road of caregiving. Be it educational, medical or judicial environment, children can be well understood and supported.
In the era where the pandemic spreads to every corner of the world, both children and adults are shaken by the impact. It is a collective trauma shared by all human society. This is why now is an important time to start "trauma-informed care." CWLF's Trauma-Informed Care Resource Center systematically organizes and provides trauma-informed resources, hosts trauma-informed care trainings, and promotes the concept to families, schools and communities. We have online trauma-informed trainings (
https://reurl.cc/l5WeRA
) for parents, teachers, and the public. We also have six episodes of podcast about trauma-informed care (
https://reurl.cc/82ap5y
). Moreover, we launched a trauma recovery helpline (0800-250585) to provide consultation about major life events that trigger strong emotions or how trauma affects people's life. Children, adults, people with adverse childhood experiences or people who are having adverse experiences right now are all welcome to call. We have professionals listen to you and support you. In the future, we hope to establish a multi-disciplinary Center for Child Trauma and Resilience, which can provide various trauma recovery services.
Trauma-Informed Care Resource Center
Telephone: +886 2 2799 0333 ext. 4
Address: 7F, No. 21, Ln. 583, Ruiguang Rd., Neihu Dist., Taipei City 114694, Taiwan.
[i] CWLF modified the questions of Center for Disease Control and Prevention of the United States' CDC-Kaiser ACE Scale with Taiwan's context. The survey was originally scheduled to take place from 22 April to 31 May, 2021. 3,049 surveys were sent out to 12th graders all around Taiwan. However, on 18 May, the COVID-19 pandemic had an outbreak in Taiwan, and schools were closed. There were only 1,505 return surveys (49.4%). Because schools closed earlier in Taipei and New Taipei City, the return rate was 26.2% in Taipei City, and 33.7% in New Taipei City.
[ii] CWLF used BSRS-5 to assess the mental health/mood disorders of the respondents with 5 symptom items of insomnia, anxiety, depression, hostility and interpersonal sensitivity/inferiority. The responses were rated on a five-point-scale from 0 to 4, 0 being not at all, 4 being extremely. The overall scores were 0-20. The higher scores the respondents got, the poorer mental health/mood disorders they had. The scale also has 4 score intervals of 0-5 normal; 6-9 mild mood disorders;10-14 moderate mood disorders; 15-20 severe mood disorders.