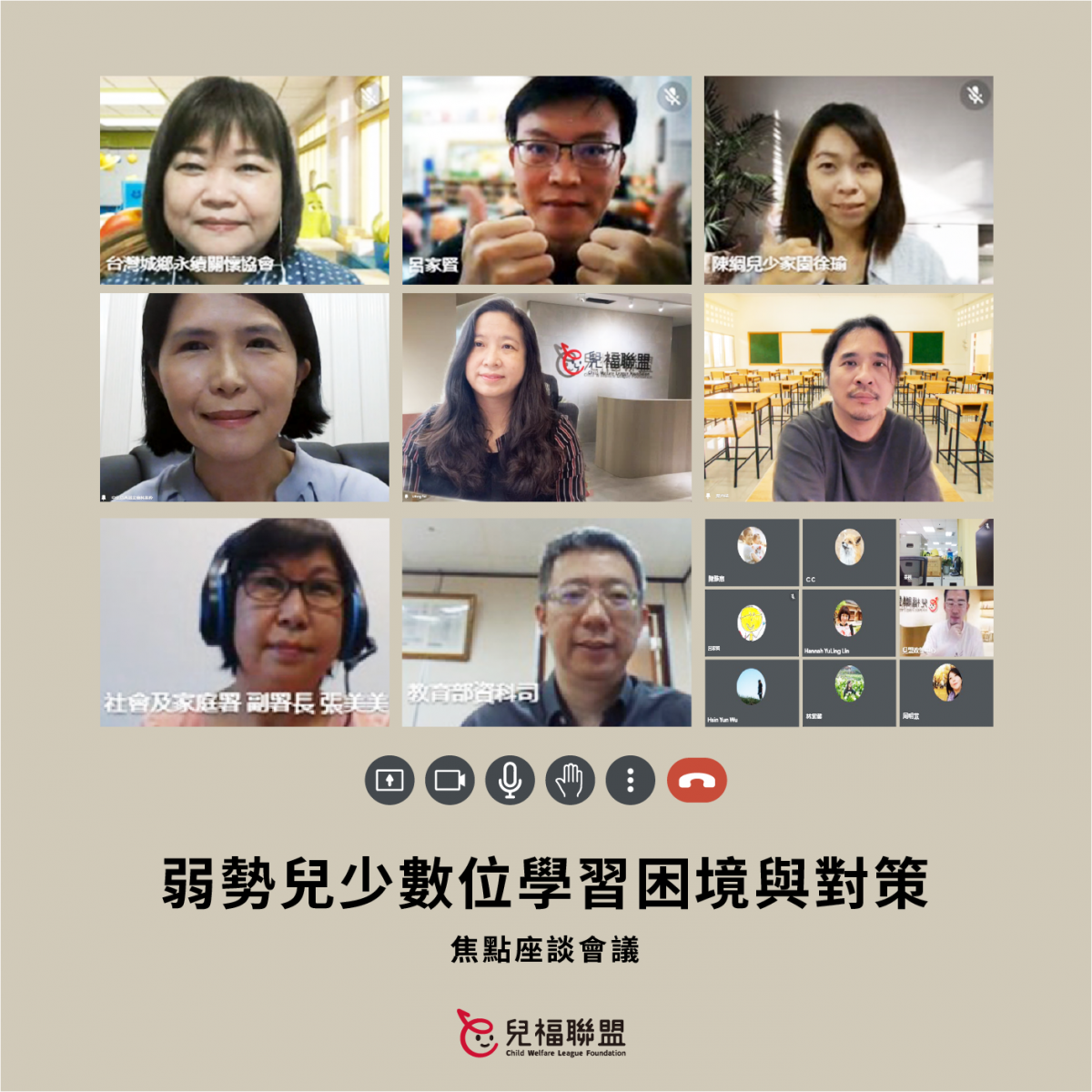 Difficulties and Countermeasures Against Digital Learning Among Children from Disadvantaged Families
To understand how children from disadvantaged families in Taiwan learn digitally during pandemic, from the 16th to 25th of June, CWLF conducted a survey about learning resources in the primary schools from our rural school support program and received responses from 303 schools.

12.5% of these rural schools indicated that over 80% of their students could only participate in the online courses with the devices at school, which revealed the insufficiency of digital devices for students in rural areas. 53.1% of these schools hoped the public could help provide access to digital devices, which again showed insufficient digital learning resources in the rural areas. 12.2% of rural schools said that more than 40% of their students often took the online courses alone at home while families went out to work. To earn the living, parents in disadvantaged families were often too busy to pay much attention to their children's online learning. Some parents were not familiar with digital devices and were not able to solve problems such as low learning willingness or learning disruption. Moreover, children mentioned that different classes might utilize different online platforms and tools, which forced them to spend more time transferring and learning to use different tools. After schools closed, the uneven parental support children receive during pandemic came to the fore, while digital divide and educational inequality exacerbated.
In order to solve these digital learning difficulties, we put forward the following three suggestions to the government, schools, institutes and parents.
Fill the gap of digital devices as soon as possible. Reinforce individualized assistance for disadvantaged students' online learning. Scale up online teaching training program 
Regarding online platform discrepancies, we call on the Ministry of Education to effectively integrate the tools for students' convenience. The Ministry of Education should also quickly grant disadvantaged students access to digital devices. For online learning, schools should voluntarily provide individualized attention and assistance.
Proactively integrate resources from the government and civil society. Promote online tutor or summer online accompaniment program for disadvantaged families.
We call on the Ministry of Education to proactively promote online tutoring program
and a
ssist local government
s
in recrui
ting licen
s
ed teachers, college students and retired teachers to be online tutor
ing volunteers
for
disadvantaged students during summer vacation.
Education and social affairs agencies should cooperate with civil society to promote child online safety education to avoid Internet addiction, online abduction or sexual exploitation.
After students start taking classes from home, the time they spend on playing online games, chatting and meeting people online, visiting adult websites has increased. Some children may not have adults' company when surfing the Internet, which also increases risk of Internet addiction, online grooming and sexual exploitation. We advise education and social affairs agencies to cooperate with civil society to promote child online safety education.
We also advise parents to pay attention to their children's online activities, keep good communication and solve problems with them. Parents should also help their children stay alert and be mindful of risks of online abduction, fraud, or sexual exploitation, etc. If children encounter unexpected situations online or have any concerns, call CWLF's free children and youth helplines. If parents have any relevant concerns, call CWLF's parenting helpline to get help.
Children Helpline: 0800-003-123
Youth Helpline: 0800-001-769
Parenting Helpline: 0800-532-880